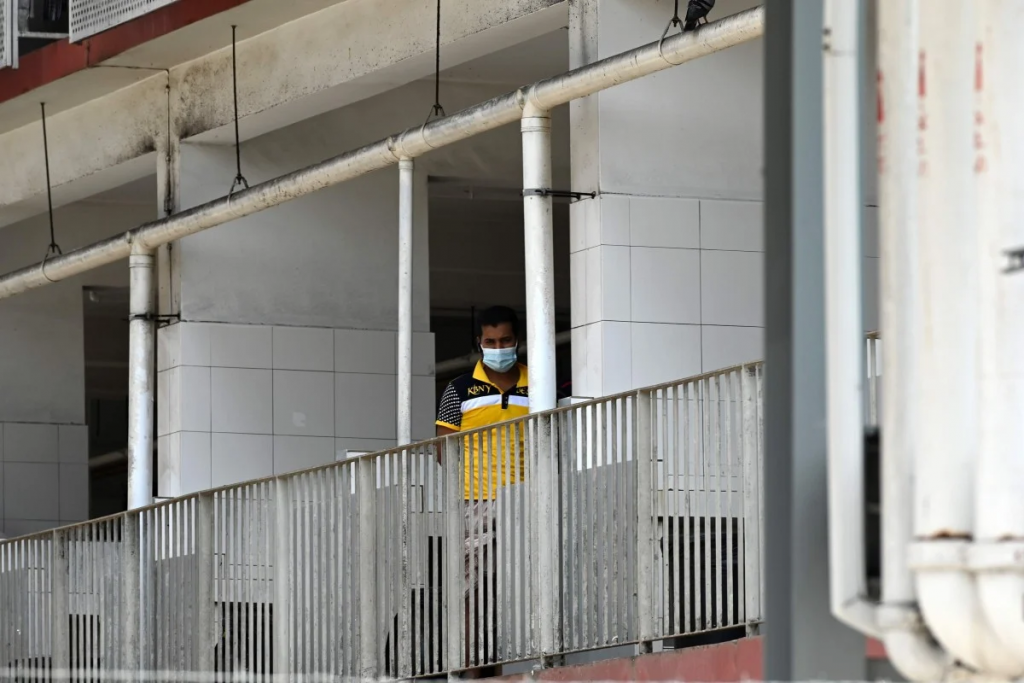 Published: 14 April 2020 by Kok Xinghui and Bhavan Jaipragas,
South China Morning Post

The island nation's authorities have corrected course after appearing to be caught off guard by the logistical scale of quarantining nearly 200,000 workers
But their living conditions, care and the quality of food provided have remained controversial points of discussion
Singapore's army of migrant workers remains in sharp focus amid expectations that a surge in Covid-19 infections in the tightly packed mega-dormitories that house them will continue in the short term, even as locally transmitted cases among the rest of the island state's population show signs of easing.
The health ministry on Monday night announced 386 new confirmed infections – the highest daily surge so far. 280 of the new cases were foreign workers. With the latest increase, some 40 per cent of the country's current total of 2,918 cases are work permit holders employed in low-wage jobs shunned by locals, such as construction.
Authorities have rapidly corrected course after appearing early last week to be caught off guard by the scale of logistical work required for them to quarantine the nearly 200,000 workers who live in 43 dormitories across the country.
Even so, accounts from activists as well as a prominent migrant rights researcher who conducted online interviews with dozens of the quarantined workers suggest improvements are needed to help them get through the isolation period.
All dormitory residents are currently barred from leaving their accommodation, while the residents of eight of these dormitories cannot leave their rooms amid tighter restrictions owing to community transmission in their buildings.
In the latest move, Singaporean officials are gearing up to move some healthy workers from their dormitories to floating accommodation on vessels typically used by employees of the country's marine and offshore sector.
The government has also announced plans to house some of these healthy workers in empty public housing flats, military camps, and multistorey car parks and void decks in public housing estates currently under construction. Military personnel, including doctors and logistics staff, have been deployed to the dormitories.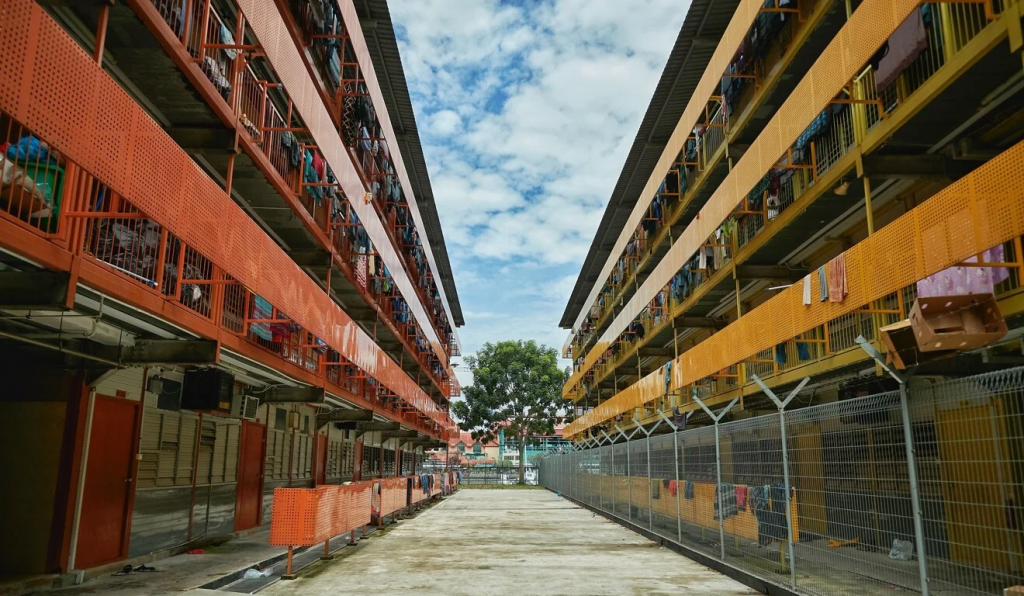 National development minister Lawrence Wong, the co-chair of the country's Covid-19 ministerial task force, in a Facebook post on Sunday said community transmission in the country as a whole was moderating. Singapore is under a month-long partial lockdown described by the government as a "circuit breaker".
But "the number of work-permit and dormitory-related cases has increased sharply, and this is likely to continue going up, especially as we undertake more aggressive testing of workers at the dormitories", he wrote.
"As I had shared earlier, we have a comprehensive strategy to take care of our foreign workers and contain the virus in the dorms. This will take some time, but we are going all out to tackle this."
Jeremy Lim, an adjunct associate professor with the National University of Singapore's Saw Swee Hock School of Public Health, said the latest data showed the contrasting situations of local residents and foreign workers.
"The government was focused on the Singapore population and left the worker measures to the dormitory operators and employers. This, with the benefit of 20/20 hindsight, was insufficient; the [dormitory] operators and employers couldn't cope and hence the challenges faced now," said Lim, who also chairs the medical services committee at HealthServe, a non-profit organisation offering health services to migrant workers.
The living conditions of workers in the dormitories – a subject of heated debate last week – remains a national talking point. The Ministry of Manpower came under fire last week after reports of some of the dormitories' filthy conditions, which were exacerbated by the quarantine as all residents were indoors throughout the day.
Some workers – many of whom cook their own meals despite their long hours – also complained about the quality of food catered for them.
Since then, cleaning has been considerably stepped up, according to media releases by the ministry. It also released video interviews of the workers saying conditions were better, while photos circulating online of the workers' meals also showed a marked improvement.
This Week in Asia understands there are special plans to give the workers a festive cheer on Tuesday to mark the Tamil New Year and the Bengali New Year.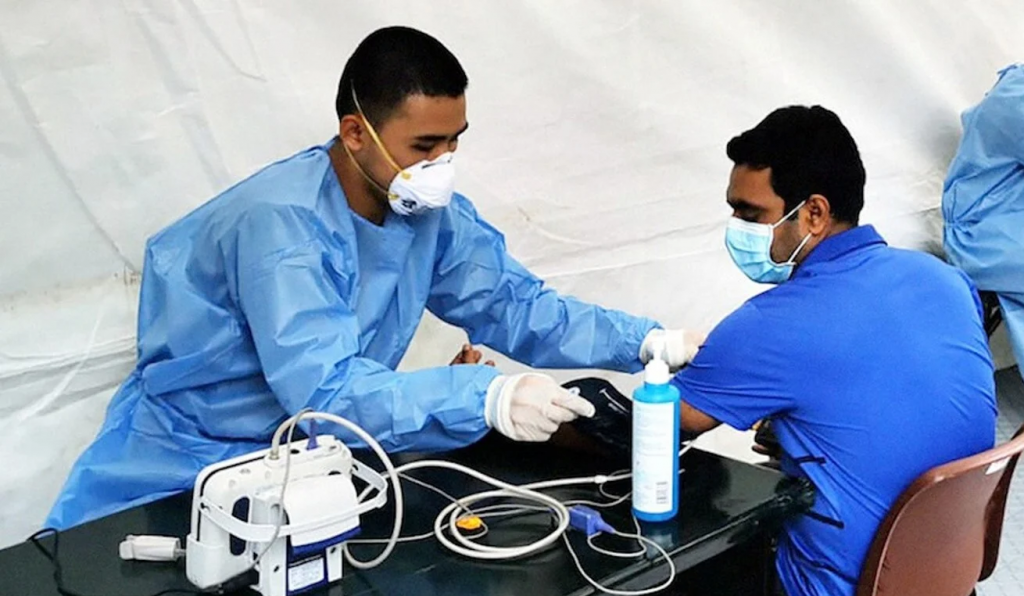 Still, the lockdown conditions are causing a strain on the workers, going by a study by Mohan Dutta, a New Zealand-based professor who has conducted extensive research on Singapore's migrant workers.
In a white paper published on Monday, Dutta released findings from 45 hours of digital ethnography – or interviews – conducted with the workers online. The 43 interviews in a mixture of Bengali and English were conducted between April 7 and Monday.
Dutta wrote that "multiple participants refer to feelings of depression when discussing their living arrangements".
Participants also disputed the reported improvement in the quality of food. Some said the price of the catered food was now S$140 (US$99) per month – S$20 (US$14) more than usual – and described the poor fare as "cruelty".
"Moreover, our advisory group members note that in spite of the media attention to food and the stories about improvement in the quality of food, they are continuing to be served poor quality food," the University of Massey professor wrote.
Activist Kokila Annamalai, writing on Facebook on Monday, said "despite some improvements, we're a long way off from doing enough for migrant workers as Covid-19 cases mount in the community". Based on conversations with workers and rights groups, she flagged several concerns including fears about mass lay-offs; non-payment or arrears of wages; and difficulty in obtaining medical attention for non-coronavirus ailments.
Local migrant worker advocacy group TWC2 has compared the workers' situation to the Diamond Princess cruise ship, on which 3,711 passengers and crew were quarantined and more than 700 people eventually infected with Covid-19.
"When social distancing in dorm rooms with 12-20 men per room is effectively impossible, should one worker in a room be infected – and he could be asymptomatic – the repeated contact he has with his roommates because of confinement would heighten the risk to his roommates. The infection rate in the dorm could increase dramatically," the group said.
Luke Tan, the case work manager for the Humanitarian Organisation for Migration Economics, said workers who lived in "converted industrial dorms or unlicensed dorms" might be falling under the radar when it came to testing for Covid-19, the availability of protective gear as well as food and salary payments.
"We know sooner or later the authorities will reach them but would it be too late?" he said.
The Ministry of Manpower in a statement on Monday said it had inspected over 600 factory-converted dormitories over the past three days, with minor lapses found in 57 locations.
Elsewhere, an op-ed piece in local Chinese-language daily Lianhe Zaobao about the workers' current circumstances drew sharp reactions, with the writer questioning whether workers cleaned kitchens and toilets themselves or if they relied on cleaners.
"If personal hygiene habits don't improve, sanitation standards will not change no matter where they go," wrote the writer, adding that the government had already done a good job.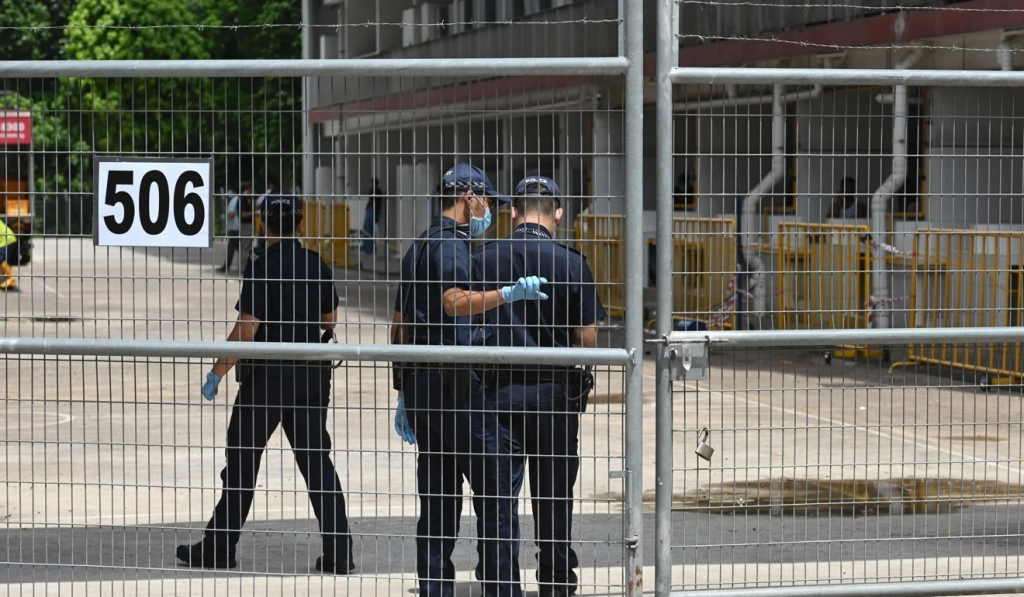 Reacting to a Facebook post translating the article, several people voiced their disappointment at that viewpoint, decrying it as "classist". TWC2 had earlier said that structural constraints such as design of space, density, and the work hours of the workers played a part in the dormitories' cleanliness. "It's no use pontificating from a middle-class distance," the non-profit said.
The embassies of countries with large numbers of workers in Singapore are offering assistance to their respective citizens. A large proportion of the city state's 981,000 work permit holders are drawn from China, Bangladesh and India.The Chinese embassy in a statement on Saturday said it was "putting the health of Chinese workers living in the foreign worker dormitories as a priority", adding that it was delivering essential supplies including some 20,000 masks to 1,800 of its nationals.
The High Commissioner of Bangladesh to Singapore, Md. Mustafizur Rahman, in a video address to his country's nationals working in Singapore, offered reassurances about salary payment, medical benefits and the provision of meals during the quarantine period.
"You should obey all the health measures instructed by the Singapore government, it will be good for you and all of us," he said.
Additional reporting by Dewey Sim
Article Link: Coronavirus: Singapore migrant worker dormitories still hot topic as Covid-19 cases rise
Source:www.scmp.com