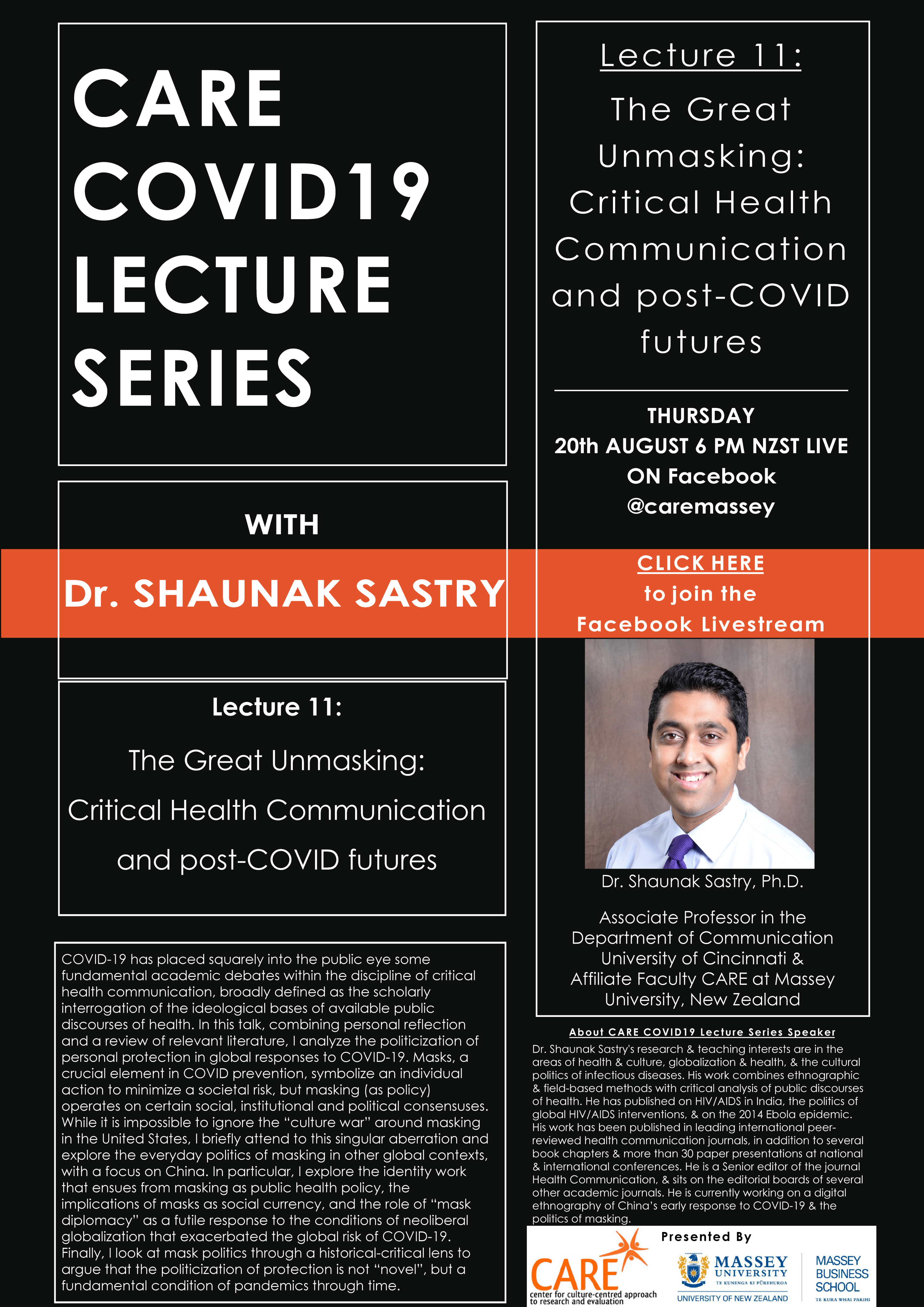 CARE COVID19 LECTURE SERIES Lecture #11: The Great Unmasking: Critical Health Communication and post-COVID futures with Dr. Shaunak Sastry, Ph.D., University of Cincinnati.
Thursday, 20th August 2020 @ 6PM NZST
Facebook Livestream: @CAREMassey-
Link:
https://www.facebook.com/CAREMassey/videos/661903594415297
Abstract:

The Great Unmasking: Critical Health Communication and post-COVID futuresCOVID-19 has placed squarely into the public eye some fundamental academic debates within the discipline of critical health communication, broadly defined as the scholarly interrogation of the ideological bases of available public discourses of health. In this talk, combining personal reflection and a review of relevant literature, I analyze the politicization of personal protection in global responses to COVID-19. Masks, a crucial element in COVID prevention, symbolize an individual action to minimize a societal risk, but masking (as policy) operates on certain social, institutional and political consensuses. While it is impossible to ignore the "culture war" around masking in the United States, I briefly attend to this singular aberration and explore the everyday politics of masking in other global contexts, with a focus on China. In particular, I explore the identity work that ensues from masking as public health policy, the implications of masks as social currency, and the role of "mask diplomacy" as a futile response to the conditions of neoliberal globalization that exacerbated the global risk of COVID-19. Finally, I look at mask politics through a historical-critical lens to argue that the politicization of protection is not "novel", but a fundamental condition of pandemics through time.Bio: Dr. Shaunak Sastry, Ph.D. is an Associate Professor in the Department of Communication at the University of Cincinnati and Affiliate Faculty, Center for Culture-centered Research and Evaluation (CARE) at Massey University, New Zealand. His research and teaching interests are in the areas of health and culture, globalization and health, and the cultural politics of infectious diseases. His work combines ethnographic and field-based methods with critical analysis of public discourses of health. He has published on HIV/AIDS in India, the politics of global HIV/AIDS interventions, and on the 2014 Ebola epidemic.His work has been published in leading international peer-reviewed journals like Health Communication, Communication Theory, Journal of Health Communication, Culture, Health & Sexuality, Frontiers in Communication, and Journal of International and Intercultural Communication, in addition to several book chapters and more than 30 paper presentations at national and international conferences. He is a Senior editor of the journal Health Communication, and sits on the editorial boards of several other academic journals. He is currently working on a digital ethnography of China's early response to CoVID-19 and the politics of masking.
For more info visit www.massey.ac.nz/care
#CAREMassey #CARECOVID19LectureSeries #Unmasking #CriticalHealthCommunication #COVID19 #futures #MasseyCJM #MasseyUni