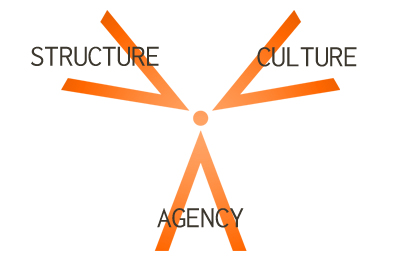 The Culture-Centered Approach to health communication (CCA) revolves around the three concepts of structure, culture, and agency.
STRUCTURE
Structure refers to distributory mechanisms for health resources in societies, such as medical infrastructures, food resources, and transportation systems. The important thing to note is that structure simultaneously constrains and enables a wide range of health practices. Structure shapes the lives of cultural participants by both limiting and creating opportunities for accessing health resources. Structure is also shaped through the participation of communities, families, and individuals in processes of change. CCA explores the communication practices through which communities, families and individuals make sense of structures, and simultaneously work with them to secure access to resources.
CULTURE
Culture provides the communicative context for health meanings in communities. Yet, at the same time, culture is also influenced by these local health meanings. In other words, culture and health are mutually constitutive. This is why culture is both central to and a vital peripheral component of CCA. Culture within the framework of CCA is dynamic and constitutive, continually changing and at the same time offering a template for action.
AGENCY
Agency is the capacity of individuals, groups, and communities to participate actively in determining the health agendas at the local level and creating solutions for community health problems. Agency in sum is at the heart of CCA, acknolwedging the decision-making capacity and participatory impulse of communities. Because so much of the contemporary healthcare landscape is increasingly controlled by experts, this emphasis on the community as a locus of decision-making is a key component in how the delivery of health services and health care is conceptualized.
CCA IN MARGINALIZED SETTINGS
In CCA, the interplay of culture, structure, and agency creates spaces for cultural members to enact positive changes in their lives, especially in marginalized settings where the voices of the community are so often diminished or silenced in discussions of health and in the development of solutions. CCA builds on the argument that communicative marginalization goes hand-in-hand with structural marginalization, suggesting that the erasure of communities from the discursive sites of decision-making is intrinsically tied to the material disenfranchisement of communities. Communities are marginalized often precisely because they don't have a say in the ways in which policies and programs are developed to address their needs. Simultaneously, not having economic access and material resources also means not having the opportunity to be recognized and represented. Cultural members live out their lives within structure. CCA recognizes that these members are active participants who interact with the resources available to them. These lived experiences influence and are influenced by local health meanings. Opportunities for social change are created when these culturally-situated health meanings are used to understand and challenge the structures which limit the decision-making and participatory capacities of marginalized communities. This establishes entry points for community members to organize collectively to address and solve local health problems.
MORE CCA RESOURCES
To learn more about CCA, you can check out the CCA Web Series. Here are some useful Videos, books and websites as well:
MORE CCA RESOURCES
To  learn more about CCA, you can check out the CCA Web Series. Here are some useful books and websites as well: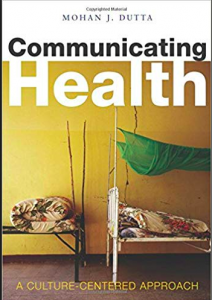 Dutta, M. J. (2008). Communicating health. UK: Polity Press. 
---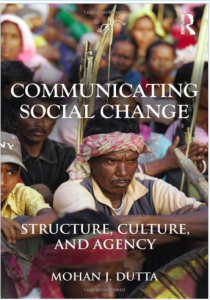 Dutta, M. (2011). Communication social change: Structure, culture, agency. New York: Routledge. 
---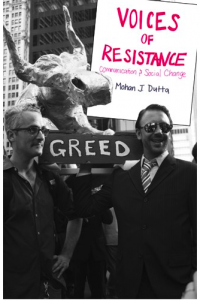 Dutta, M. (2012). Voices of Resistance. West Lafayette, IN: Purdue University Press 
---