ICA21 Regional Hub in Aotearoa @ CARE, Manawatu, Massey University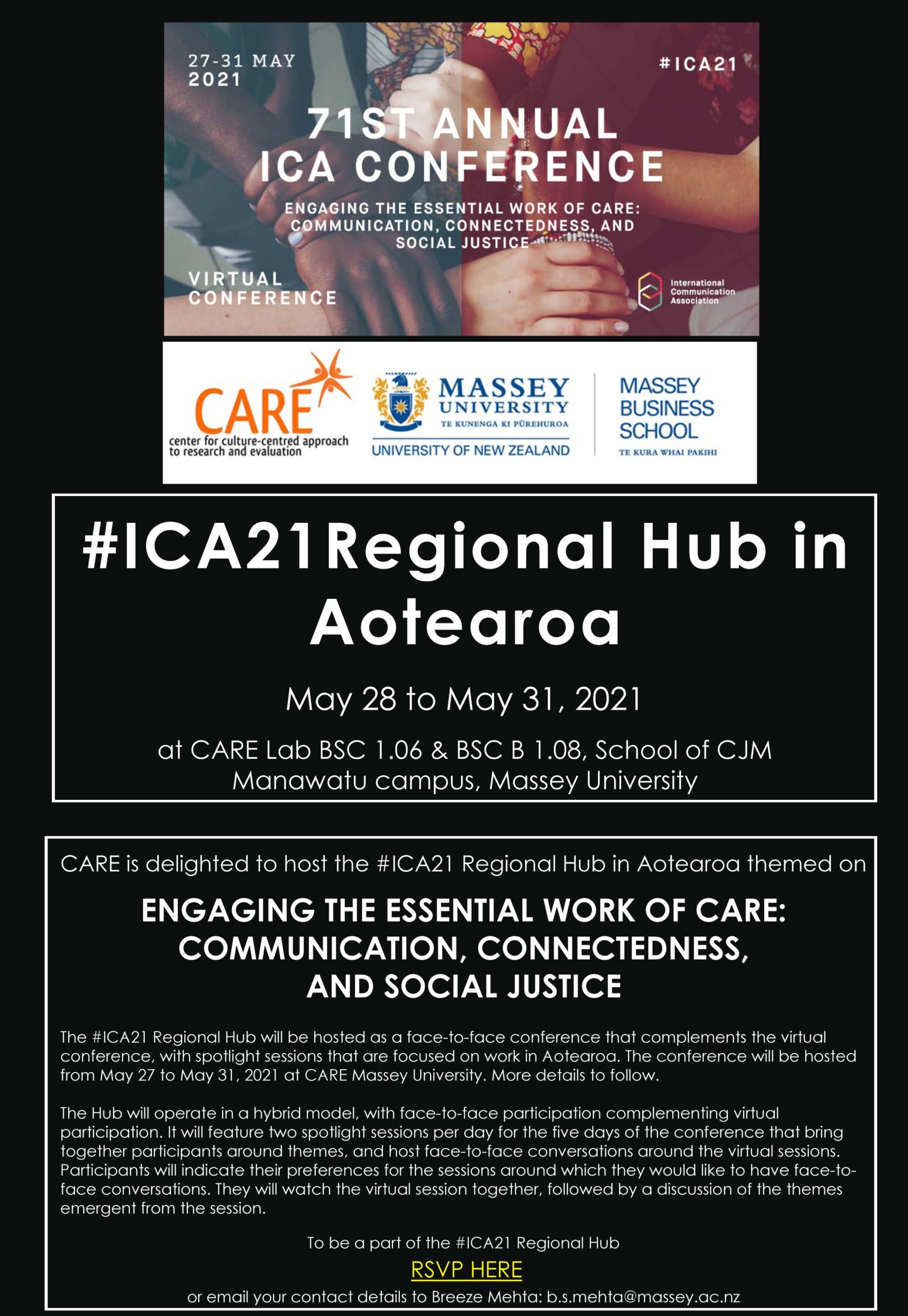 ICA21 Regional Hub in Aotearoa :Engaging the Essential Work of Care: Communication, Connectedness, and Social Justice @ CARE
28th – 31st May 2021
CARE, BSC 1.06 & BSC 1.08, School of CJM Manawatu campus, Massey University
More details about the panels are as follows:
CARE is delighted to host the #ICA21 Regional Hub in Aotearoa themed on ENGAGING THE ESSENTIAL WORK OF CARE: COMMUNICATION, CONNECTEDNESS, AND SOCIAL JUSTICE
The #ICA21 Regional Hub will be hosted as a face-to-face conference that complements the virtual conference, with spotlight sessions that are focused on work in Aotearoa. The conference will be hosted from May 28 to May 31, 2021 at CARE Massey University. More details to follow.
The Hub will operate in a hybrid model, with face-to-face participation complementing virtual participation. It will feature two spotlight sessions per day for the five days of the conference that bring together participants around themes, and host face-to-face conversations around the virtual sessions. Participants will indicate their preferences for the sessions around which they would like to have face-to-face conversations. They will watch the virtual session together, followed by a discussion of the themes emergent from the session.
To be a part of the #ICA21 Regional Hub RSVP HERE or email your contact details to Breeze Mehta: b.s.mehta@massey.ac.nz