presented by Prof. Mohan Dutta and Dr. Leon Salter with panelists Ibrahim Omer, Anita Rosentreter and Rebecca Macfie.
Thursday, 24th March 2022 @ 12 PM NZDT via Facebook Live (Link in description)
Abstract
Experiences with COVID-19 Among Gig Workers : Findings from interviews with 25 rideshare and delivery drivers about their navigation of precarious working conditions in a pandemic environment.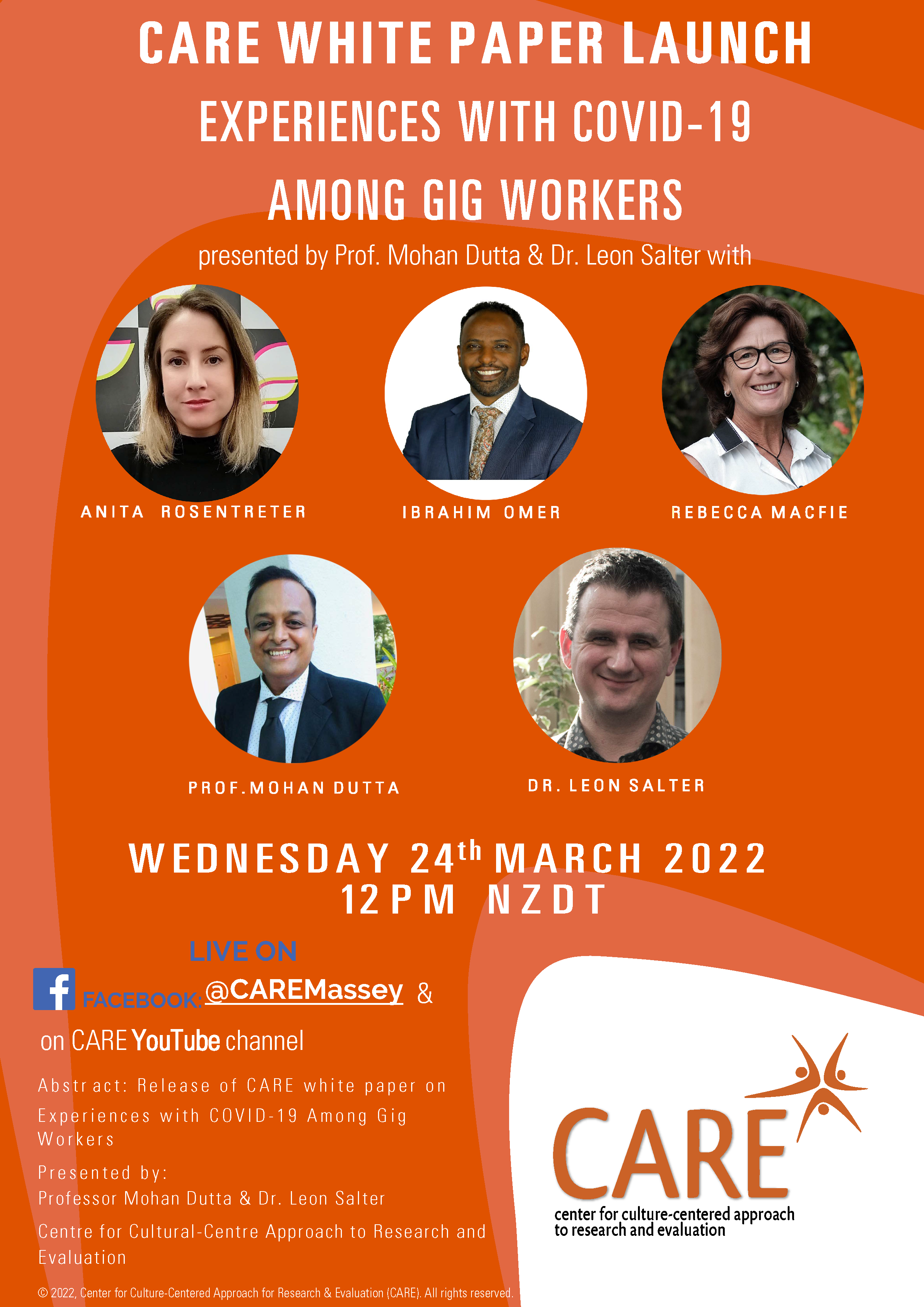 Livestream Link: https://www.facebook.com/CAREMassey/videos/291971153109628
Location via Facebook Live and CARE YouTube channel
About our panelists:
Ibrahim Omer became an MP to represent communities who often struggle to have their voices heard. His experience spans fleeing his home country, being in a refugee camp, working as a minimum wage cleaner, graduating from university, and representing low paid workers as a union organiser.
Rebecca Macfie is an award winning New Zealand journalist, with a background in workplace, health and safety, business and climate writing. She is the author of Tragedy at Pike River Mine:How and why 29 men died (2013), and Helen Kelly: Her Life (2021).
Anita Rosentreter is the Strategic Project Coordinator for Transport, Logistics and Manufacturing at FIRST Union. She leads the campaign Real Work Real Jobs, which aims to turn insecure work into secure work. Target groups include gig workers, those in labour hire, and dependent contractors.
#WhitePaper #COVID19 #GigWorkers #CAREWhitePaper #CAREMassey #CAREMasseyNZ #MasseyUni