ICA 2023 – ICA CARE PACIFIC HUB | Centering Indigeneity: Methodologies of Decolonization
ICA CARE Pacific Hub Workshop | 27- 28 May 2023
BSC B 1.08 Manawatu campus, Massey University | LIVE ON Facebook & YouTube
About the CARE ICA Pacific Regional Hub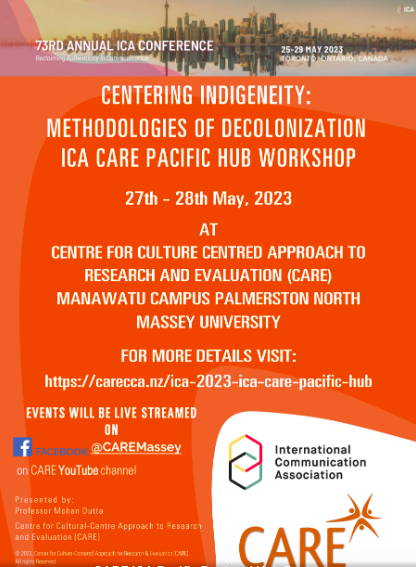 CARE to host the International Communication Association Regional Hub on May 27 and 28 in Palmerston North, Massey University. This two-day hybrid workshop will bring in scholars from across the Asia-Pacific in hybrid (virtual and in-person) sessions, focusing on key methodological questions in scholarship of Indigeneity and Communication. Aligned with the conference theme of authenticity, the workshop will center the questions of Indigeneity as they connect with organizing research and practice in universities toward decolonization.
Aligned with the conference theme of authenticity, the workshop will center the questions of Indigeneity as they connect with organizing research and practice in universities toward decolonization, drawing on the organizing work of Indigenous struggles. Sessions will connect with local organizers and activists in generating conversations on key questions around the generation of decolonizing knowledge in the communication field. Centering the principles of Kaupapa Māori (KM) in dialogue with the Culture-Centered Approach (CCA), the workshop will explore the decolonizing work of Indigenous methods as the basis for structural transformation.
Following the seminal work of Linda Tuhiwai Smith (1999), a movement of indigenous scholars have attempted to re-shape the landscape of research and knowledge generation, placing Māori epistemologies, theorising and people at the centre. Going against dominant colonising currents of individualism, extraction and instrumentalism, Kaupapa Māori foregrounds concepts such as whanaungatanga (kin relationships) as well as an imminent and intimate relationship to the research field through community engagement and relations of reciprocity. KM has successfully shifted the conversation in Aotearoa [New Zealand], so that research should be conducted and owned by Māori instead of on Māori. The articulation of voices which previously have not been heard is having a political effect, working towards the dismantling of colonial structures (Pihama, Tiakiwai, and Southey 2015).
Converging with the organising concepts of KM, the CCA foregrounds the cultural articulations of marginalised indigenous communities as the sites where voices can challenge oppressive colonial-capitalist structures. The concept of subalternity is key, "noting that dominant communication practices, embedded within the hegemonic agendas of state-private sector instruments of transnational capital, systematically erase the voices of subaltern communities" (Dutta and Elers 2020, 6). Foregrounding the voices of marginalised groups both prevents the "cultural death" of indigeneity and actively challenges the systemic practices of colonising capitalist structures. At the immediate level, the CCA assists in establishing voice infrastructures, empowering marginalised groups to collaboratively create a conceptual framework for interpreting experiences of colonisation, which serves as the basis for co-creating community-led solutions.
This workshop aims to further develop key intersecting relationships between Kaupapa Māori and the CCA, based on principles of community self-determination, cultural aspiration, culturally preferred pedagogy, and collectivization (see Dutta, 2008; Smith, 1997). Through opening up this dialogue, we aim to create a forum for discussing key methodological and ethical issues in the ongoing struggle for creating spaces for decolonising research in a communication field dominated by whiteness ( Rodriguez, Dutta, & Desnoyers-Colas, 2019).
Each accepted paper will have the choice of presenting either online or in person at the CARE lab, Massey University Manawatu Campus, Palmerston North, New Zealand at the International Communication Association Regional Hub to be hosted on May 27 and 28, 2023. Partial travel support will be available to participants and you will be receive a waiver to participate in the International Communication Association (ICA) Annual Conference.
Submission guidelines
Abstract submissions should be no more than 500 words not including references. Send your abstracts no later than April 28, 2023 to Professor Mohan Dutta at M.J.Dutta@massey.ac.nz. We will notify accepted authors no later than May 5, 2023.
References
Dutta, Mohan J., and Steve Elers. 2020. "Public relations, indigeneity and colonization: Indigenous resistance as dialogic anchor." Public Relations Review 46 (1): 101852. https://doi.org/https://doi.org/10.1016/j.pubrev.2019.101852. https://www.sciencedirect.com/science/article/pii/S0363811118305198.
Pihama, L., Tiakiwai, S., & Southey, K. (2015). Kaupapa rangahau : a reader : a collection of readings from the Kaupapa rangahau workshop series (Second edition ed.): Te Matenga Punenga o Te Kotahi, Te Whare Wānanga o Waikato.
Rodriguez, A., Dutta, M. J., & Desnoyers-Colas, E. F. (2019). Introduction to special issue on merit, whiteness, and privilege. Departures in Critical Qualitative Research, 8(4), 3-9.
Useful Links:
https://www.icahdq.org/mpage/ICA23

---
---
---