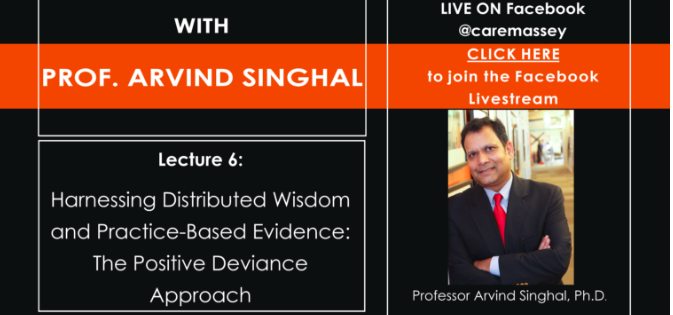 Professor Arvind Singhal, from The University of Texas at El Paso speaks about harnessing distributed wisdom and practice-based evidence: the positive deviance approach. Positive Deviance (PD) is a novel approach to individual, organizational, and social change based on the observation that in every community there exist certain individuals or groups whose uncommon behaviors and strategies enable them to find better solutions to problems than their peers, while having access to the same resources and facing worse challenges The PD approach has been systematically employed in over 50 countries to address a wide variety of complex social problems, including
• Decreasing malnutrition and infant and maternal mortality in Vietnam and Pakistan
• Reducing school dropouts in Argentina and in the U.S.; and
• Reducing hospital-acquired infections in the U.S. and Colombia.
Driven by data, the PD approach turns upside-down the normative ways of conducting expert-driven needs assessment and gap-analysis, and follows a systematic process of uncovering cost-effective and culturally appropriate solutions from within the local community.
Positive Deviance Books, Articles, and Cases Downloadable at NO cost on the links below
Three Positive Deviance books
FIVE CASE STUDY Positive Deviance Binder
PD TEDx Talk https://youtu.be/n-NAvN-PLW0
About CARE COVID19 Lecture Series:
In this lecture series, we will cover the various aspects of health communication within the context of the COVID19 pandemic. From strategies of risk messaging, to community organizing, to systems of governance, to processes of structural transformation, we will explore the ways in which communication is constituted by the crisis and in turn, constitutes the crisis. Anchored in the key tenets of the culture-centered approach (CCA), the series will draw on lectures, conversations, and workshops with community organizers, activists, academics, and policy makers across the globe.

More info on CARE Facebook: https://www.facebook.com/CAREMassey/