CARE Event: Precarious Academic Work (PAWS) Report Launch
THE ELEPHANT IN THE ROOM
Precarious work in New Zealand's universities with Chlöe Swarbrick, Dr. Sereana Naepi & Prof. Mohan Dutta
WEDNESDAY 6th JULY 2022 at 7.00 PM NZST
LIVE ON CARE channels:
Facebook- https://www.facebook.com/CAREMassey/live_videos/
YouTube- https://www.youtube.com/channel/UCF760E7rBst3U5GmJ5FhDDw
RSVP on Facebook Event page : https://www.facebook.com/events/580830703389598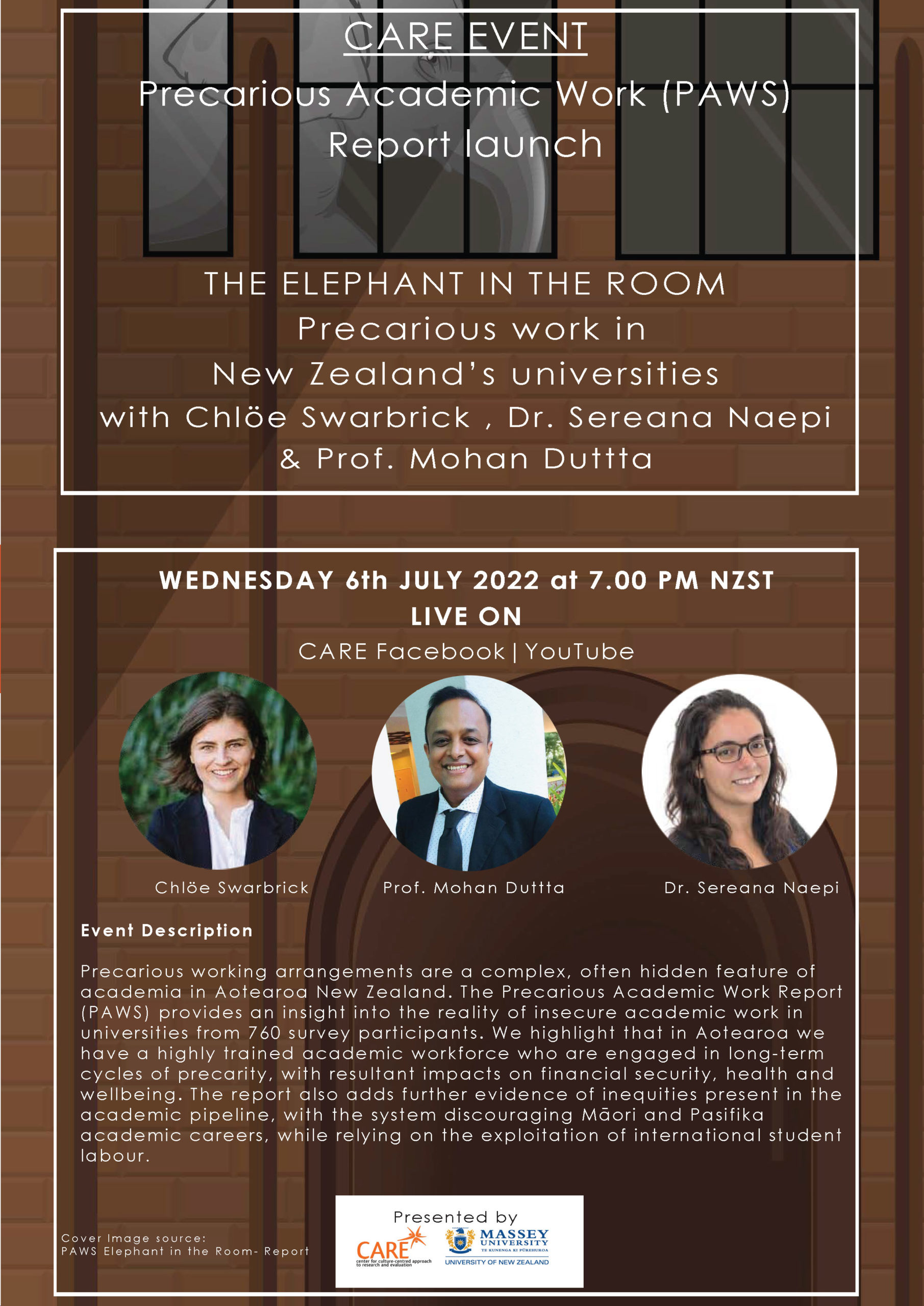 Event Description:
Precarious working arrangements are a complex, often hidden feature of academia in Aotearoa New Zealand. The Precarious Academic Work Report (PAWS) provides an insight into the reality of insecure academic work in universities from 760 survey participants. We highlight that in Aotearoa we have a highly trained academic workforce who are engaged in long-term cycles of precarity, with resultant impacts on financial security, health and
wellbeing. The report also adds further evidence of inequities present in the academic pipeline, with the system discouraging Māori and Pasifika academic careers, while relying on the exploitation of international student labour.
About panelists:
Chlöe Swarbrick
Green Party MP for Auckland Central. Chlöe works tirelessly for bold, transformational action on the issues for which she is the Green Party spokesperson, including young people, mental health and tertiary education.
Dr. Sereana Naepi
Lecturer in Social Sciences at the University of Auckland. A Pasifika woman of Fijian and Pakeha descent, Sereana works to help other Pasifika people not only succeed but also lead purposeful, meaningful and significant lives.
Prof. Mohan Dutta
Mohan J Dutta is Dean's Chair Professor of Communication. He is the Director of the Center for Culture-Centered Approach to Research and Evaluation (CARE), Massey University developing culturally-centered, community-based projects of social change, advocacy, and activism that articulate health as a human right. Mohan Dutta's research examines the role of advocacy and activism in challenging marginalizing structures, the relationship between poverty and health, political economy of global health policies, the mobilization of cultural tropes for the justification of neo-colonial health development projects, and the ways in which participatory culture-centered processes and strategies of radical democracy serve as axes of global social change.
Cover image Source: PAWS Elephant In the Room – Report
#Aotearoa #NewZealand #PrecariousWork #academic #precarity #NewZealandUniversities #MasseyUni #CAREMassey #CARECCA #CAREMasseyNZ