CARE Activist In Residence Programme (AIRP)-Anjum Rahman | 21st – 24th August 2023 @CARE, Massey University
CARE ACTIVIST IN RESIDENCE PROGRAMME 21st – 24th August 2023 | Islamophobia and Digital Regulation: Responding to the Christchurch Call with Anjum Rahman (MNZM), Founder and Project Co-Lead- Inclusive Aotearoa Collective Tāhono. Presented by Center for Culture Centered Approach to Research and Evaluation, & Palmerston North City Library & Manawatu Multicultural Council (MMC)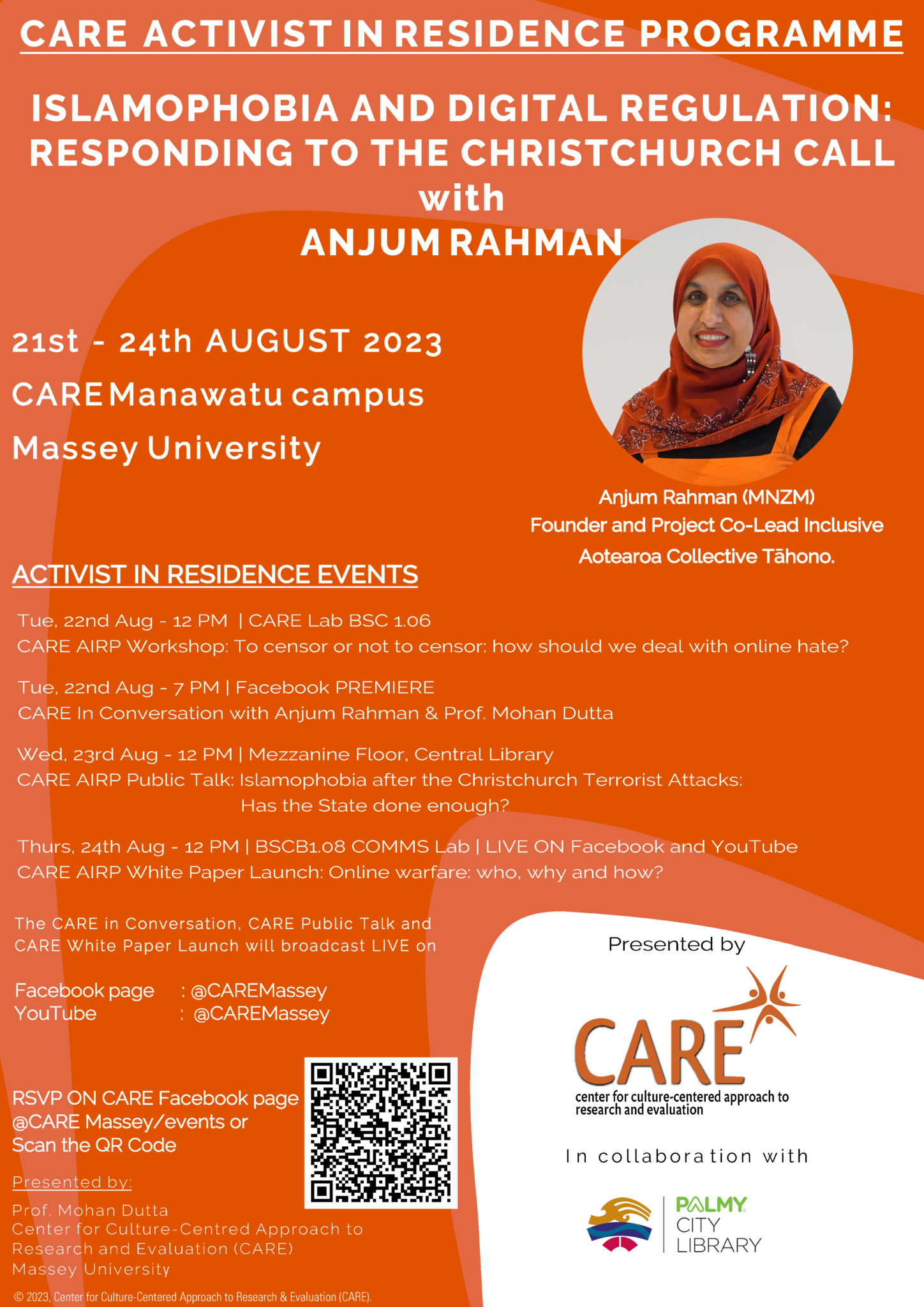 Hosted by Prof. Mohan Dutta & CARE, Manawatu campus Massey University & Palmerston North City Library
Tue, 22nd Aug – 12 PM | CARE Lab BSC 1.06
CARE AIRP Workshop: To censor or not to censor: how should we deal with online hate?
Abstract: Violent, extremist, and hateful content has real impacts both in the online and offline world. In this workshop we ask you to put your thinking hats to discuss the best ways to deal with it. Real life examples will be provided, and you will be asked to look at each scenario from a different perspective to understand the complexity of dealing with content that might or might not be illegal but can be damaging in various ways.
Tue, 22nd Aug – 7 PM | Facebook PREMIERE
CARE In Conversation with Anjum Rahman & Prof. Mohan Dutta
Link To Facebook event: https://www.facebook.com/events/821896023004741
Link to YouTube: https://www.youtube.com/watch?v=5NQsXtdn1II
Abstract: Aotearoa New Zealand is a colonised land, and this informs our understanding of our history and contemporary times. Islamophobia is also the product of global colonisation while Muslims have historically also been colonisers in other countries. This lively conversation will cover complex and challenging issues to provide a better understanding of the drivers of Islamophobia internationally and locally.
Wed, 23rd Aug – 12 PM | Mezzanine Floor, Central Library
CARE AIRP- Public Talk: Islamophobia after the Christchurch Terrorist Attacks: has the State done enough?
Link to the Powerpoint Slides:
Link To Facebook event: https://www.facebook.com/events/1346640192936274
Link to YouTube: https://www.youtube.com/watch?v=DL1Q7TOYTmE
Abstract: There were 44 recommendations in the Royal Commission report on the Christchurch mosques attacks. This Public Talk explores government actions to date, with a critical review of what has been achieved, where the gaps are, and what are the implications for other communities currently being targeted. Will the government response protect us from further terrorist attacks? And if not, what more needs to be done?
Thurs, 24th Aug – 12 PM | BSCB1.08 COMMS Lab
CARE AIRP White Paper Launch – Online warfare: who, why and how
Link To Facebook event: https://www.facebook.com/events/197357120015397
Link to YouTube: https://www.youtube.com/watch?v=PmJ4UYNKrv0
Abstract: Targeting small and vulnerable populations is an age-old technique for creating fear used by political and state actors, as well as those seeking to profit from outrage and insecurity. This CARE White Paper will focus on the failure of the government of Aotearoa New Zealand to respond to other states, extremist groups and influencers targeting minorities. Our national security system is aware of the way groups are strategically targeted, and also understand the impact. Yet there appears to be no coordinated and effective strategy to protect those targeted. Solutions are presented, with a call on the government and all political parties to act urgently.
Facebook Event Link: https://www.facebook.com/events/241515122078310
RSVP Here: https://forms.office.com/r/KXcFseS6QK or https://www.facebook.com/events/241515122078310
or Scan the QR Code below
Bio: Anjum Rahman is the founder of the Inclusive Aotearoa Collective Tāhono. She is a chartered accountant with over 25 years' experience, working with a range of entities in the commercial, farming and not-for-profit sectors.
She also commits to various volunteer roles in the community. She was a founding member of the Islamic Women's Council of New Zealand, an organisation formed in 1990 to bring Muslim women together and represent their concerns, and is currently the media spokesperson. She has also been a founding member and trustee of Shama, Ethnic Women's Trust, which supports ethnic minority women through its social work service, life-skills classes and community development. She has worked in the area of sexual violence prevention both as a volunteer and as part of Government working groups. Anjum is a Trustee of Trust Waikato, a major funder in the Waikato Region.
Anjum has been an active member of the Waikato Interfaith Council for over a decade, a trustee of the Trust that governs Hamilton's community access broadcaster, Free FM. She is a member of international committees dealing with violent extremist content online, being the co-chair of the Christchurch Call Advisory Network and a member of the Independent Advisory Committee of the Global Internet Forum for Countering Terrorism. She is also a member of the Charities and Not for Profit Commitee of Chartered Accountants Australia New Zealand.
#CAREMasseyNZ #CAREAIRP #MasseyUni #CARECCA #Christchurch #Islamophobia #Aotearoa #NewZealand