The Center for Culture-Centered Approach to Research and Evaluation (CARE), a research center under the Department of Communications and New Media at the National University of Singapore, is launching an online campaign on the 4th July to co-create stories of resilience, hope, and healing with the survivors of the Indonesian mass killings of 1965/1966. Based on scripts created by community members, the campaign seeks to create a narrative entry point for articulating the lived of experiences of sufferings and the pathways of hope. This online campaign titled "Learning65" celebrates the possibilities of hope amid suffering. Voices of hope come in various forms of stories and articulate the human rights, health and wellbeing issues faced by the survivors of the mass killings. After more than 50 years, the community members struggle to fight for justice amid the human rights violations under the New Order regime, which included mass killings, forced disappearances, sexual harassment, forced labor, imprisonment without trial, and many others. Community members share experiences of trauma, recounting physical torture, sexual harassment, and ongoing stigma. Voices of the victims have been systematically erased from the discursive space.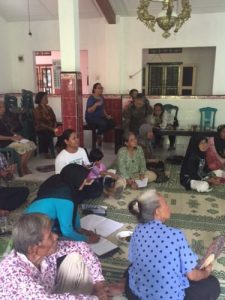 This online campaign was conceptualized by an advisory committee comprising 10 men and women from the community of 1965 survivors. Guided by the tenets of the culture-centered approach (CCA) pioneered by Center Director, Professor Mohan J. Dutta, this research study began with the understanding that community members are their own best problem configurations and solution providers. Therefore, when spaces for listening are created and communities are invited as co-participants, solutions to their health and well-being emerge from their lived contexts offering entry points for addressing trauma and suffering.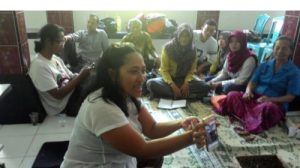 Over the 8 month-period, the advisory board identified key issues faced by the community of survivors and developed communicative solutions to tackle these problems. Stigma, restrictions to gather and to express thoughts, inequality, and communicative inaccess, are some of the problems that the community members face in their everyday lives. In collaboration with the NUS research team, the advisory board designed the campaign and the key messages in the collaterals. The media campaign developed by the community will include a dedicated digital story telling website, social media outreach, and a documentary research film.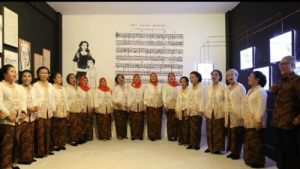 Besides the media campaign, the advisory committee also highlighted that a key element in building collective consciousness about the history and the 1965 tragedy, and enacting positive changes in their lives was to engage with the key stakeholders in solution-making. In line with this, two focus group discussions and peer leader meetings were organized, bringing together the younger generations, volunteers, artists, scholars, and activists. The community highlights the importance to engage with the younger generations through arts and performance to battle the stigma, and to address the erasures experienced by the victims and their family members for more than 50 years. The outcomes of the discussion and the solutions proposed will be summarized in two White Papers. The culture-centered campaign foregrounds voices of the the marginalized community of 1965 in creating a narrative entry point for health and wellbeing. The full White Paper will be available online at: http://www/care-cca.com/. To find out more about culture-centered approach, please visit http://www/care-cca.com/ CONTACT INFORMATION: Prof Mohan J. Dutta (cnmhead@nus.edu.sg) Dr. Dyah Pitaloka (cnmpd@nus.edu.sg)/ (itareksodirdjo@gmail.com)