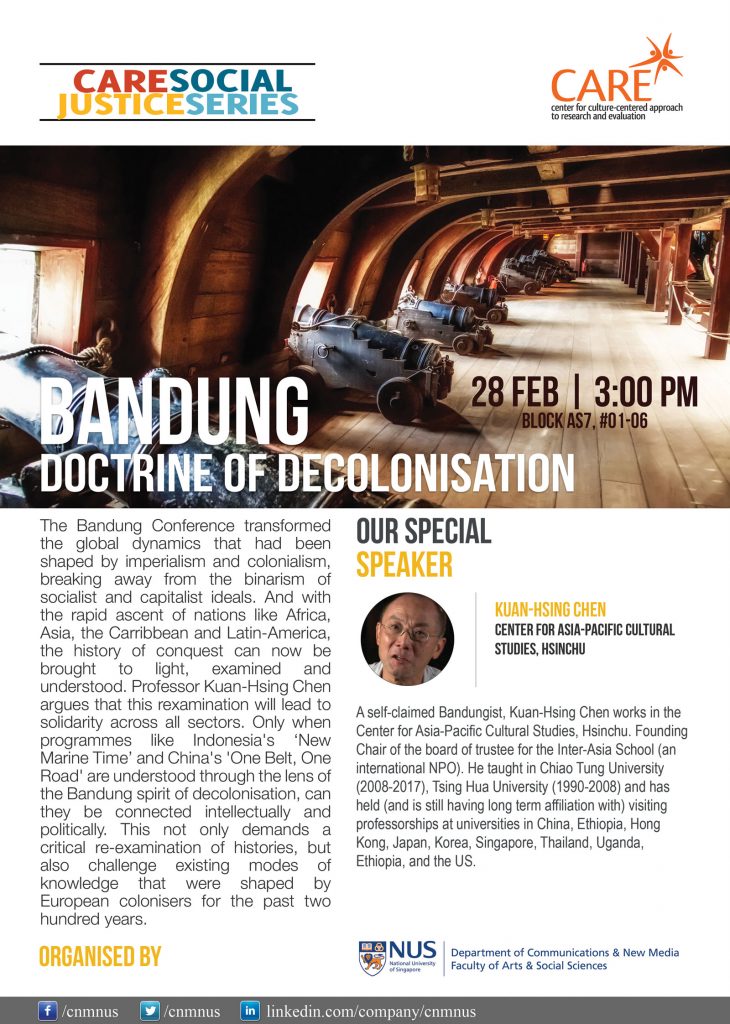 Abstract:
The Bandung Conference transformed the global dynamics that had been shaped by imperialism and colonialism, breaking away from the binarism of socialist and capitalist ideals. And with the rapid ascent of nations like Africa, Asia, the Carribbean and Latin-America, the history of conquest can now be brought to light, examined and understood. Professor Kuan-Hsing Chen argues that this re-examination will lead to solidarity across all sectors. Only when programmes like Indonesia's New Marine Time and China's One Belt, One Road are understood through the lens of the Bandung spirit of decolonisation, can they be connected intellectually and politically. This not only demands a critical re-examination of histories, but also challenge existing modes of knowledge that were shaped by European colonisers for the past two hundred years.
Speaker: 
A self-claimed Bandungist, Kuan-Hsing Chen works in the Center for Asia-Pacific Cultural Studies, Hsinchu. Founding Chair of the board of trustee for the Inter-Asia School (an international NPO). He taught in Chiao Tung University (2008-2017), Tsing Hua University (1990-2008) and has held (and is still having long term affiliation with) visiting professorships at universities in China, Ethiopia, Hong Kong, Japan, Korea, Singapore, Thailand, Uganda, Ethiopia, and the US.
28 Feb 2018
3:00 PM – 4:00 PM
Faculty of Arts and Social Sciences
Block AS7, #01-06
Register at cnmn.us/bandung.