Invites all to our upcoming event: Activist-In-Residence-Teanau Tuiono.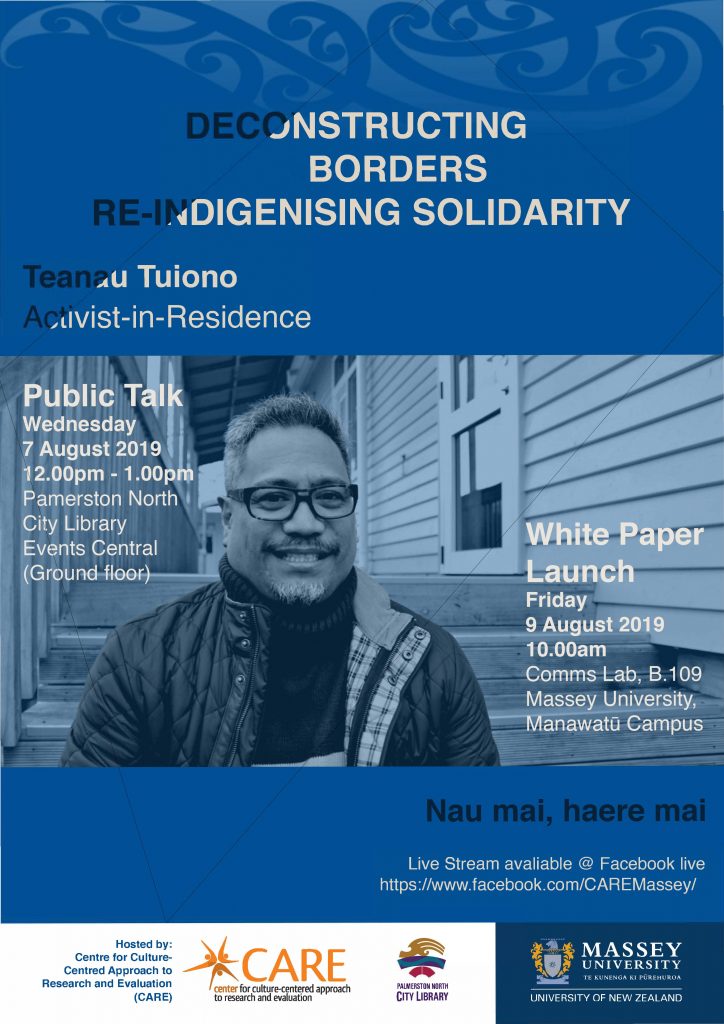 Abstract:
With the rise of white nationalism and white supremacy, how can Tangata Whenua, Pasifika, Migrant and Refugees of Colour build solidarity between their communities? Teanau's Activist-in-Residence will explore the activist experiences of solidarity and whanaungatanga across cultures and communities.
Teanau has over 20 years' experience as an activist, advocate, and organiser at local, national, and international levels on social justice and environmental issues. In Pasifika communities he is known for his work in the education sector and climate change advocacy. In Maori communities he is known for his indigenous rights activism.
He has an interest at working at the intersection of indigenous rights and environmental issues where he has worked with remote indigenous communities on the frontlines of climate and biodiversity loss.
Events:
PUBLIC TALK
WEDNESDAY, 07 AUGUST 2019 12:00PM,
PALMERSTON NORTH CITY LIBRARY EVENTS CENTRAL ( GROUND FLOOR)
LIVESTREAM ON CARE FB PAGE
WHITE PAPER LAUNCH
FRIDAY, 09 AUGUST 2019, 10:00AM
CoMMS LAB, B.109 MASSEY UNIVERSITY, MANAWATU CAMPUS
LIVESTREAM ON CARE FB PAGE
RSVP on Facebook: @CAREMassey