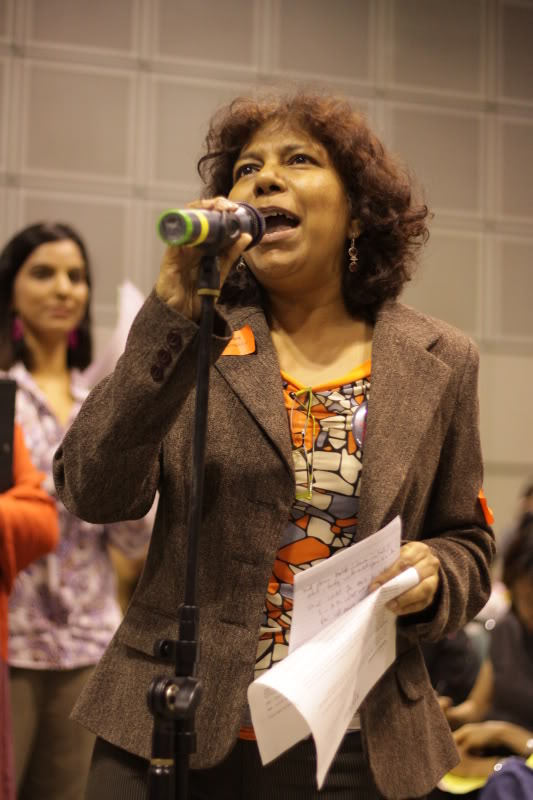 CARE is delighted to host the veteran Singaporean activist Ms. Braema Mathi (Mathiaparanam) as the Center's inaugural activist-in-residence.
That structural conditions that constitute health need to be systematically challenged and transformed is a key principle of the culture-centered approach (CCA), and forms the basis of the activist-in-residence program. The conceptualization of health as a key node for struggles for social justice offers the basis for participatory projects at the grassroots and of movements that seek to build health sustaining structures. The projects at CARE therefore seek to create spaces and sites for structural transformation through partnerships with communities and activists.
The activist-in-residence program at CARE brings in an activist to spend a few months (between 1 and 6 months) in conversation with a specific project or a series of projects at CARE, resulting in publications of white papers, policy briefs, media interventions, and advocacy strategies. In addition, the activist-in-residence offers workshops and interaction sessions on communication strategies for creating social justice anchors. The community of activists-in-residence return for dialogues on sustainable strategies for structural transformation, methods of community organizing, and tactics of communication interventions that resist structures.
Drawing on CARE projects across Asia-Pacific and the US, the activist-in-residence program seeks to create an infrastructure for global networks of transformative activist politics that imagines a socially just world based on the fundamental tenets of human rights.
A stalwart of Singapore activism, Braema defines the landscape of communication for social change in Singapore through her tireless advocacy for human rights in Singapore and across Southeast Asia.
Her interest in social justice from early years led Braema to become involved in issues related to women, migrants and HIV. She has led AWARE, founded and led Transient Workers Count Too, was the Vice-President of Action for Aids, and also founded and led MARUAH (Singapore Working Group for ASEAN Human Rights Mechanism). She is also the Singapore focal Point for MARUAH in ASEAN and also on the Southeast Women's Caucus. She was also the Regional President (Southeast Asia and Pacific) of the International Council of Social Welfare and AWARE's first Director of Research and Advocacy.
Her areas of expertise include advocacy strategies, communications toolkits, partnerships with the media, and networked platforms for change. She has published book chapters, articles and also written reports to and for organisations that include think-tanks in Southeast Asia and to the United Nations.
As activist-in-residence, Braema will lead CARE's capacity building work in human rights and communication for social change, fostering a network of community organizations and academics across the Asia-pacific, offering guidance to the development of platforms of resistance to the neoliberal order, and participating in collaborations in thinking through ideas of health as a human right. She is currently collaborating with Professor Mohan Dutta on white papers on key areas of social change communication, which will lead to a book on Communication and Social Change.