CARE PUBLIC TALK with Julie Webb-Pullman, Kiwi War Crime Investigator and Journalist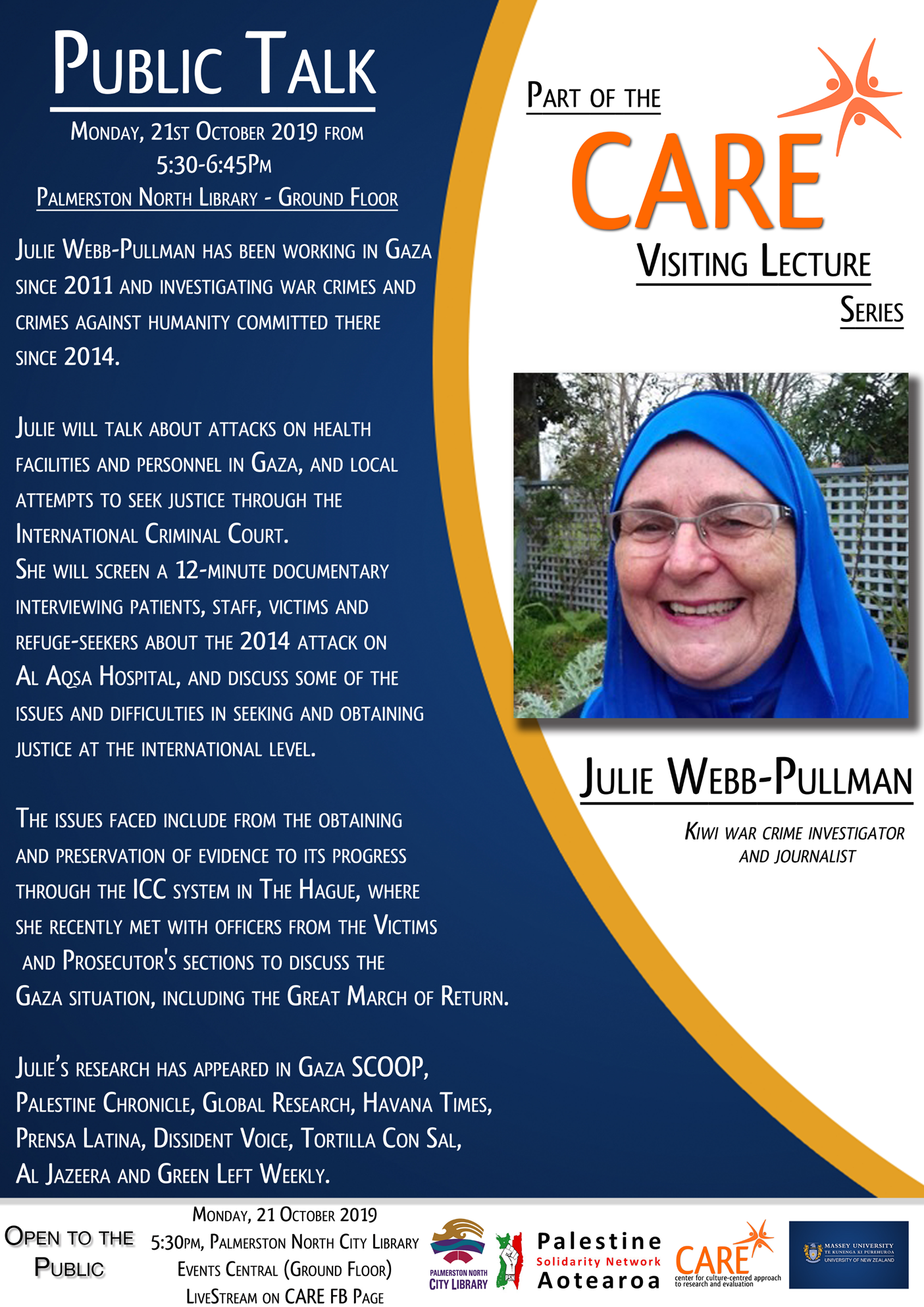 Date: Monday 21st October 2019
Time: 05.30 pm – 06.45 pm
Venue: Palmerston North Library – Ground Floor
Abstract:
Kiwi war crime investigator and journalist Julie Webb-Pullman has been working in Gaza since 2011 and investigating war crimes and crimes against humanity committed there since 2014.
Julie will talk about attacks on health facilities and personnel in Gaza, and local attempts to seek justice through the International Criminal Court. She will screen a 12-minute documentary interviewing patients, staff, victims and refuge-seekers about the 2014 attack on Al Aqsa Hospital, and discuss some of the issues and difficulties in seeking and obtaining justice at the international level.
The issues faced include from the obtaining and preservation of evidence to its progress through the ICC system in The Hague, where she recently met with officers from the Victims and Prosecutor's sections to discuss the Gaza situation, including the Great March of Return.
Julie Webb-Pullman is a New Zealander who has been writing from Gaza since 2011. Her work has appeared in Gaza SCOOP, Palestine Chronicle, Global Research, Havana Times, Prensa Latina, Dissident Voice, Tortilla Con Sal, Al Jazeera and Green Left Weekly.
Fundraising Adopt an Investigator! (The fundraising proposal behind this visit)
Although investigators work in pairs, with one female and one male, The Gaza Centre for Human Rights hopes that the generosity of kiwis will fund at least one investigator position for one year, at a cost of $6,000 USD (NZ$10,000). Julie will be fundraising throughout the country to try to raise this. We are hopeful our friends across the ditch will fund the other position, if we are not able to manage it from New Zealand.
Julie's work on war crimes in Gaza has been published in The Lancet, and presented at international conferences, the most recent being a poster presentation on developing international guidelines for evidence collection in conflict zones. They welcome further collaboration with other scientists, researchers and academics for future publication and presentation.
Account for Donations:
Bank account name is: Palestine Solidarity Network
Account Number: 38 9015 0849542 00
Reference – Gaza
Facebook livestream details will be shared on @CAREMassey a week prior to the event.
Follow us on our social media platform for more details: Facebook : @CAREMassey   Twitter: @CAREMasseyNZ   Youtube:@CAREMassey