CARE Covid19 Lecture Series Special Live Presentation: Resistance, Poetry and Voices Under COVID-19: Imagining and writing new futures
Facebook Livestream link:
https://www.facebook.com/CAREMassey/videos/2916683465078666/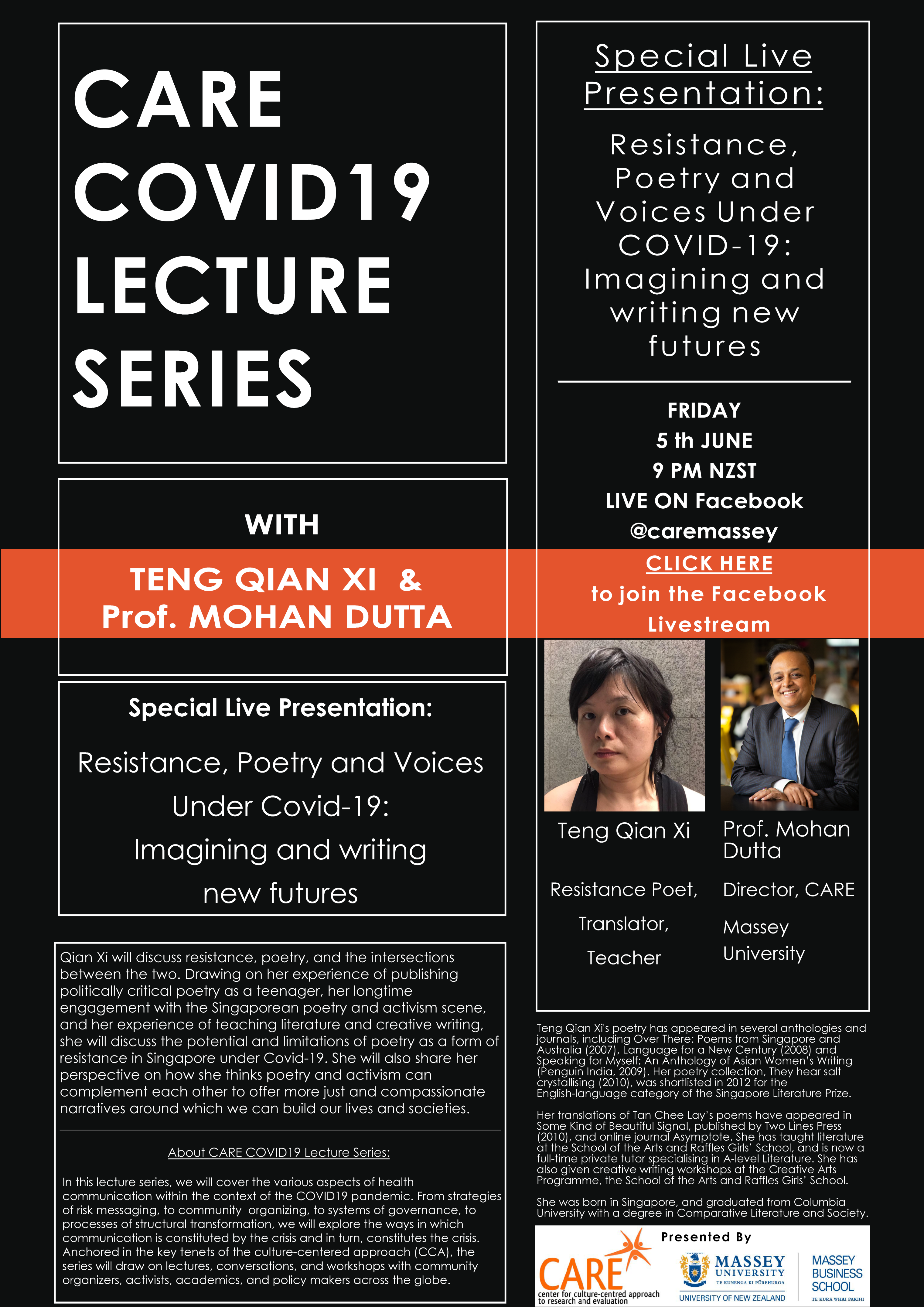 Poet Teng Qian Xi and Center for Culture Centered Approach to Reseach and Evaluation Director Mohan J Dutta will discuss resistance, poetry, and the intersections between the two. Drawing on her experience of publishing politically critical poetry as a teenager, her longtime engagement with the Singaporean poetry and activism scene, and her experience of teaching literature and creative writing, she will discuss the potential and limitations of poetry as a form of resistance in Singapore under COVID-19. She will also share her perspective on how she thinks poetry and activism can complement each other to offer more just and compassionate narratives around which we can build our lives and societies.
Teng Qian Xi's poetry has appeared in several anthologies and journals, including Over There: Poems from Singapore and Australia (2007), Language for a New Century (2008) and Speaking for Myself: An Anthology of Asian Women's Writing (Penguin India, 2009). Her poetry collection, They hear salt crystallising (2010), was shortlisted in 2012 for the English-language category of the Singapore Literature Prize.
Her translations of Tan Chee Lay's poems have appeared in Some Kind of Beautiful Signal, published by Two Lines Press (2010), and online journal Asymptote. She has taught literature at the School of the Arts and Raffles Girls' School, and is now a full-time private tutor specialising in A-level Literature. She has also given creative writing workshops at the Creative Arts Programme, the School of the Arts and Raffles Girls' School.

She was born in Singapore, and graduated from Columbia University with a degree in Comparative Literature and Society.